Elegance Meets Functionality: The Art of Boston Tea Tables by D.R. Dimes & Company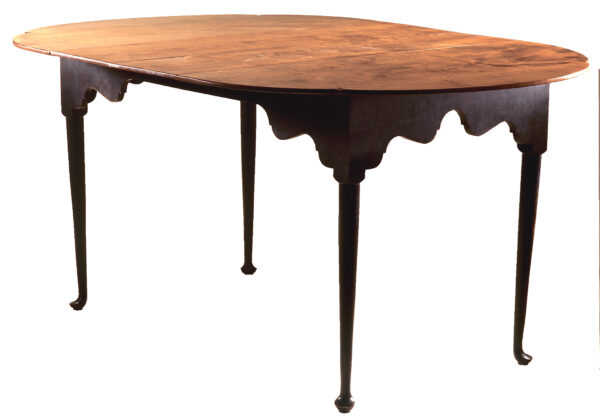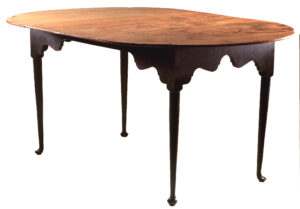 Welcome to the world of Boston tea tables, where elegance and functionality converge in finely crafted pieces by D.R. Dimes & Company. We'll take you on a journey to discover what makes these tables so unique, delve into their historical significance, and unveil the meticulous craftsmanship behind them. We'll also showcase some signature D.R. Dimes tables from their catalogue, including the Ohio Extension Table, the 60" Hexagon Base Round Table, and the Canadian Farm Table. These are shining examples of D.R. Dimes & Company's exquisite work.
The Legacy of Boston Tea Tables
Boston tea tables carry a rich historical legacy, harking back to a time when gatherings around the tea table were central to social life. These tables gained prominence during the 18th century and became iconic pieces of American furniture. They were designed not only to hold teapots and cups but also to serve as centers of conversation and camaraderie. The intricate craftsmanship of Boston tea tables made them symbols of refinement and hospitality.
D.R. Dimes & Company: Craftsmanship at Its Best
D.R. Dimes & Company is a name synonymous with preserving the art of traditional craftsmanship. With a commitment to crafting furniture of unparalleled quality, D.R. Dimes & Company has earned a reputation as a master furniture maker. Each piece is a testament to their dedication to preserving the heritage of fine woodworking.
The Artistry of Boston Tea Tables
Crafting Boston tea tables is a meticulous art. Skilled artisans at D.R. Dimes & Company meticulously select the finest materials and employ time-honored joinery techniques to ensure every table is a work of art. Each piece undergoes a journey of precision and passion, resulting in tables that are both beautiful and functional.
Showcase of Signature Boston Tea Tables
Now, let's explore some of the signature tables crafted by D.R. Dimes & Company:
The Ohio Extension Table
The Ohio Extension Table is designed for those seeking elegance in limited spaces. Perfect for cozy breakfast nooks, it comfortably seats four. This table comes standard with two 10" leaves and is ideal for hosting family and friends for dinner. Its design is a testament to D.R. Dimes & Company's commitment to both form and function.
The 60" Hexagon Base Round Table
Round tables have a certain allure, but traditional ones often have limitations in seating. D.R. Dimes & Company's 60" Hexagon Base Round Table ingeniously solves this problem. It allows ample overhang all around with its hexagonal base. This makes it easy to seat eight with armchairs or up to ten with side chairs. It's a perfect blend of aesthetics and practicality.
The Canadian Farm Table – 90"x42"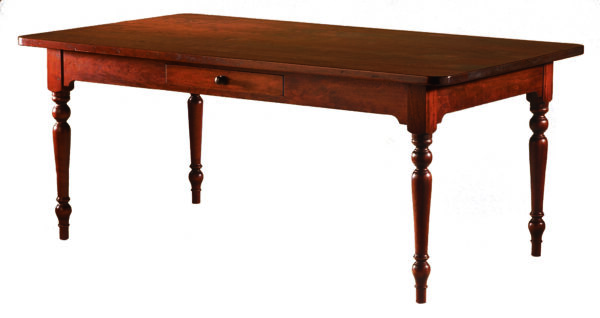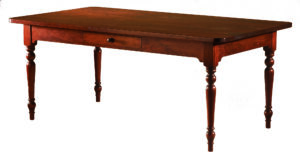 The Canadian Farm Table stands out with its robust design. Unlike traditional designs, it's overall heavier with boldly turned legs and a thicker top. It features more modest overhangs with slightly rounded corners and accommodates up to eight guests. This table showcases D.R. Dimes & Company's versatility in creating distinct pieces.
Customization Options
One of the hallmarks of D.R. Dimes & Company is its ability to create custom Boston tea tables tailored to clients' preferences. Whether you have a unique vision or are looking for table types and models not found in their catalogue, D.R. Dimes & Company welcomes the opportunity to bring your ideas to life.
Behind every custom piece is a master furniture maker who has spent years honing their skills. The journey from apprentice to artisan is a long and dedicated one. It involves mastering the techniques of joinery, the selection of the finest woods, and the ability to envision the final piece in all its intricacies.
At D.R. Dimes & Company, this dedication to the craft is at the core of what they do. They make sure that each custom creation reflects the mastery of years of experience.
Elevate Your Dining Experience
Boston tea tables are more than just pieces of furniture. They are the heart of your dining room. They create an inviting atmosphere where family and friends can come together to share meals, stories, and laughter. D.R. Dimes & Company's dedication to preserving this tradition ensures that every table they craft becomes a cherished part of your home.
The art of Boston tea tables lives on through the craftsmanship of D.R. Dimes & Company. Their commitment to quality, customization, and timeless design sets them apart in the world of fine furniture. Whether you choose a signature piece from their catalogue or embark on a custom design journey, you can trust D.R. Dimes & Company to deliver elegance and functionality in every table they create.
Discover the beauty of Boston tea tables and make them the centerpiece of your dining experience. Contact D.R. Dimes & Company online today to start the process and have them craft the furniture of your dreams.